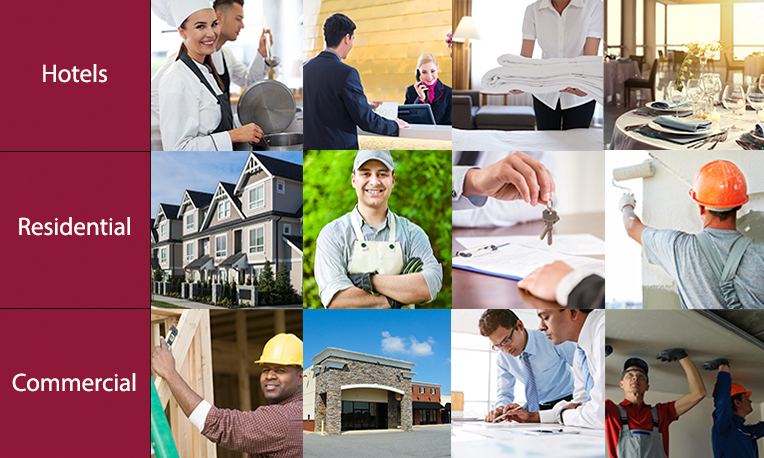 CSM Careers
Your Career with CSM Begins Here
CSM's leadership in almost every facet of real estate, hotel development, management and asset management is a testament to our amazing community of employees. What began 40 years ago with just four people is now a high-performing national team more than 2,000 employees strong. Our dozens of industry awards and four decades of success are built on a company-wide commitment to integrity, respect, quality, community and continuous improvement.
Whether you are seeking a career in accounting, engineering, real estate, housekeeping or maintenance, CSM is an excellent choice to achieve your professional goals.
We provide the opportunities you'd expect from an industry leader while never losing sight of our founder's entrepreneurial spirit. We pride ourselves on having a small company culture with big company resources and manage with our heads as well as our hearts. That's because people are always at the core of our business. CSM strives to do what's right for our employees, customers, and communities.
Explore career opportunities
As the owner or manager of over three dozen hotels, 100 commercial properties, and over 3,000 apartment units, CSM Corporation is thriving. And that means opportunity for you.
We're a dynamic company that believes in helping our employees grow and rewarding their contributions — while making a positive difference for our customers and our community, too.
We offer:
Competitive pay and excellent benefits package
A strong commitment to the wellness of our associates and their families
A "family feel" with leadership who support your professional and personal achievement
A respectful work environment where you can showcase your talents
A company-wide emphasis on quality, continuous improvement and internal promotion
Corporate-sponsored, associate-driven charitable programs and community involvement
Come grow with us. Search our opportunities and apply online
About CSM Corporation
Founded in 1976, CSM Corporation grew out of entrepreneur Gary Holmes' first real estate asset purchase at the age of 14. Today CSM develops, renovates and restores commercial, industrial, hotel and residential properties nationwide. The company has been recognized with dozens of industry awards for unique approaches to design and development, quality management and superb customer service. In its 40 years of operation, CSM has built, acquired or redeveloped 216 properties across 16 states, including more than 13.5 million square feet of commercial space, 6,600 hotel rooms and 6,100 apartment/townhome units. CSM's four decades of success are built on a company-wide commitment to treating customers and associates with integrity and respect, and for long-term dedication to its properties and host communities.
2,000+ employees
Acquire, build and manage some of the nation's most prestigious hotel brands, including Marriott, Hilton and Hyatt
Dozens of regional and national awards
"I started working for CSM Corporation in May of 2002 as the Assistant General Manager at the Courtyard by Marriott in Bloomington. After working for other management companies in the past, I was immediately impressed with the amount of time, money and effort CSM put into training and development of its managers and associates. This all leads to a great culture of incredibly talented people. It's for those reasons I've been with the company this long. I've held the position of Assistant General Manager, Director of Operations and General Manager at 5 different locations in 13 years. I've been encouraged to pursue my career passions and grow professionally more than I thought possible. CSM understands the importance of its people and the communities they serve. It's a pretty impressive organization to be a part of and I feel lucky that #IAmCSM!
– Darryn Maloney, General Manager, Courtyard Minneapolis Bloomington