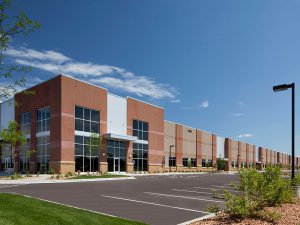 CSM Corporation today announced its decision to develop the second phase of its successful 610 Commerce Center project in Brooklyn Park, MN. R.J. Ryan has been selected as the general contractor and will begin construction immediately. The building will be ready for occupancy in February 2018.
Phase II will replicate the 202,000 square-foot Phase I building with 28-foot clear height and upscale design elements including exterior glass.
610 Commerce Center is located at 7200 93rd Avenue North with easy access off of highway 610 and 169.
"Phase I leased-up very successfully to four businesses. The convenient location, image, and functionality were well-received," says President of Commercial Properties, Matt Van Slooten. "All indications are that demand will continue to be strong for Phase II."
610 Commerce Center is designed to accommodate manufacturing, assembly, and light distribution.
Dan Swartz at CBRE is leasing the project.