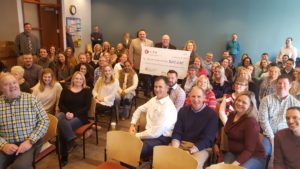 At their Check Presentation Event, CSM Corporation announced that they had raised $211,632 for the Ronald McDonald House Charities, Upper Midwest in 2017.
With a number of events throughout the year including March Madness, Food Trucks for Charity, Pack the Pantry Drive, Office Bingo and Shop & Sip – 2018 broke the record for most successful year, and helped the company reach an admirable milestone. Since the creation of the CSM Cares Committee 10 years ago, the company has raised over $1 million for organizations and charities in the Twin Cities area!
Thank you to all our employees, families and partners for your generous contributions to this cause – we couldn't have done this without you!