Hotel case studies
Renaissance Minneapolis Hotel, The Depot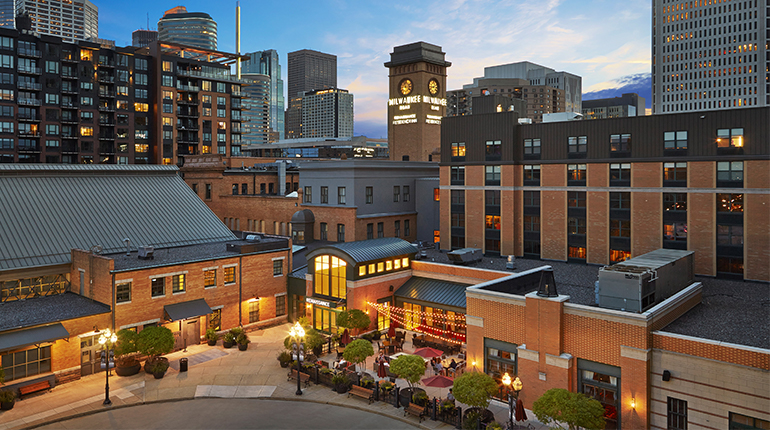 Built in 1899, the Renaissance Minneapolis Hotel, The Depot greeted travelers and freight for over a half century. When train transport declined, in favor of greater flexibility offered by cars and trucks, the Depot quickly fell into disrepair. The formerly thriving property became an empty shell. Its surrounding area was an unfortunate victim of urban blight, until 25 years later, when CSM purchased the property. CSM founder Gary Holmes saw beyond the dust and dirt to envision a new public landmark for the City of Minneapolis. Our commitment to building strong relationships was critical to bringing the vision to life for this prominent site. We worked in tandem with many stakeholders, including the Minneapolis City Council, Minneapolis Community Development Agency and Minneapolis Heritage Preservation Commission. Gary's vision ultimately turned into two hotels – Renaissance and Residence Inn by Marriott – and became a social hub for the City. A unique showcase – the Great Hall with its original marble and gilding – is one of the premier locations for upscale weddings. Business travelers recognize the facility for its amenities and convenience to downtown business. Families enjoy the indoor water park and the former train shed which was converted into a popular ice skating rink. With 24-hours notice, the rink can transform into a premier dining room seating up to 1,800, making the Depot one of the largest meeting spaces in the Twin Cities. Some say the complex is haunted. We can't confirm that for certain. However, we positioned white statues throughout the buildings in honor of the ghosts of past individuals who may come back to enjoy their beloved Depot. The Depot is a stellar example of a multi-use property. CSM's integrated teams – from architects to construction professionals to legal and finance experts – brought their best strategy and execution to restore beauty and pride to this unique opportunity.
Marriott Minneapolis West
The hotel's location, near General Mills corporate headquarters, provided CSM with a solid base of business travelers looking for an upscale lodging experience. This former Holiday Inn had aged to the point where it could no longer provide the desired level of service. We purchased and transformed the property from a mid-market level to a full-service upscale property. CSM was one of the first companies to begin the wave of renovation and new construction in this now thriving business and social area of St. Louis Park.
CSM invested $12 million in full-scale renovation, including all guest rooms, common areas, conference facilities and dining areas. We created 13,000 square feet of flexible meeting space, large and stylish guest rooms featuring upscale furnishings, flat screen TVs, well-lit, oversized granite vanities and curved shower rods. For the business traveler, all rooms feature a moveable, flexible work desk and high speed Internet access.
Kip's Authentic Irish Pub and Restaurant, named after Gary Holmes' son, is a favorite gathering spot for travelers and locals looking for Irish food, drink and music. The pub has become a St. Patrick's Day tradition for many.
Additional amenities include a concierge floor for VIP guests and a full banquet kitchen. The Marriott Minneapolis West also features a kosher kitchen – one of few in the Twin Cities metro area.
This venue is a premier location for business travelers in the Minneapolis market. Our renovation is another demonstration of CSM's commitment to creating superior experiences where people live, work and visit.