Work with a leader in residential property management
With more than 2,500 residential units under management, CSM Corporation is a highly respected residential property management company in the market.
› See residential properties
We owe our success to our approach: We understand that apartment communities are more than just a building. We know they're a significant investment for property owners — and home for their residents, too.
That's why we work so hard to maintain and even improve the properties we manage. Ultimately, our goal is to help residential investments be:
More competitive in the market.
More profitable.
More attractive to renters over the long-term.
Profit from our residential management experience
As a rental property owner, you know that the success of your rental business depends on superior rental-property management, maintenance and service. CSM Corporation can help.
Across the U.S., we've helped residential rental properties like yours increase revenue, boost their property value and attain industry-leading resident-retention rates.
One of the ways we do this is through targeted expertise. No matter how big — or small — your business is, you can access our specialized in-house teams for help with:
Accounting
Architecture
Customer service
Human resources
IT
Legal guidance
Taxes, and much more.
Our ultimate goal is to help your property achieve its maximum value and performance. And we get there by creating exceptional experiences for you — and for your residents.
See our rental-management case studies
From accounting to tax planning, CSM can help
CSM Corporation offers in-house real estate experts who will create a customized plan to help you better manage your business — and get more revenue out of your rental properties.
Among other specialties, we offer dedicated expertise in:
Accounting
Our state-of-the-art system gives you flexible, cost-effective tools to streamline your accounting process. Whether you need simple per-unit statements, powerful fifteen-month rolling forecasts for several properties, or an overview of your entire portfolio, our comprehensive tools can help you manage your investments and save time.
Architecture/Construction
Proactively renovating your rental property preserves its value, prevents costly emergency repairs, and helps retain residents. Our in-house team of construction and renovation experts have the skill and experience to assess your needs and recommend solutions — and to complete projects to high standards, within budget, and on time.
Asset Management
Your rental property is an asset — and like any other investment, growing its value over time takes skill. Our in-house team of real-estate investment managers will work with you to develop a long-term strategy that dynamically evaluates market conditions, and then carefully reinvests earned revenue to maximize your returns.
Customer Service
 No matter how much you care about your tenants or prospective renters, you can't always answer when they call. CSM can help.
Human Resources
Your residents deserve a skilled and responsive on-site team. CSM can help you recruit, train, and retain your property-management staff — from maintenance to management and accounting — and provide temporary, fill-in professionals to ensure business continuity during employee absences.
Information Technology Services
From tenant screening to online applications and rent payment, our information technology (IT) team offers reliable and effective systems to help you manage your rental properties more efficiently. Quality selection and retention processing also ensure timely cash flow and easier support, all at a low cost.
Legal
Our legal team's vast experience in residential asset management can create a more efficient process and minimize legal costs. With CSM, your rental property will be in excellent hands for the entire project lifecycle – from acquisition to government approvals and subsidy, to financing, development and tenant relations.
Maintenance
Regular, proactive maintenance can help preserve your rental property's value and retain quality renters. We staff each property with maintenance technicians who handle routine repairs and day-to-day tasks. We also provide access to our ProTech division, which handles specialized repairs or additional maintenance needs as they arise.
Purchasing and Vendor Relations
 CSM's strong vendor relationships and purchasing agreements can help you save money, while providing you the highest quality materials and service. You can also create and manage purchase orders, track orders, and get detailed delivery information with our state-of-the-art purchasing system.
Renters' insurance program
Value-added services such as renters' insurance can give you an edge over the competition, and attract and retain quality renters. That's why CSM provides a variety of affordable rental insurance options for your residents, at an unmatched value you won't find anywhere else in the industry.
Risk/Insurance Management
Let CSM help protect your property — and its value. Our in-house risk-management team can help minimize risk through techniques such as maintaining material safety data sheets (MSDS), establishing links with purchasing systems, and providing ongoing safety training for your staff.
Utility Management
If you're wasting time trying to manage your utility bills, you're also wasting money. Our Ratio Utility Billing System (RUBS) can save you both by integrating utility costs into your business model. Then, it helps you distribute utility costs fairly for your renters, efficiently and inexpensively.
Tax Planning
Your rental property likely spans several tax categories, and the tax code is continuously evolving. Our tax experts can help you ensure compliance across all functional areas (employment, workers' compensation, property tax, tax increment financing districts and more) — while helping you make the most of available tax benefits, too.
We're here for our renters, too
Do you want to lease an apartment, ask a question, or pay your rent? If you're a resident or rental applicant with CSM Corporation, we're here to help.
You can log into the resident portal below to:
Apply for a home
Pay your rent
Submit maintenance requests
You can also view and search our available apartments.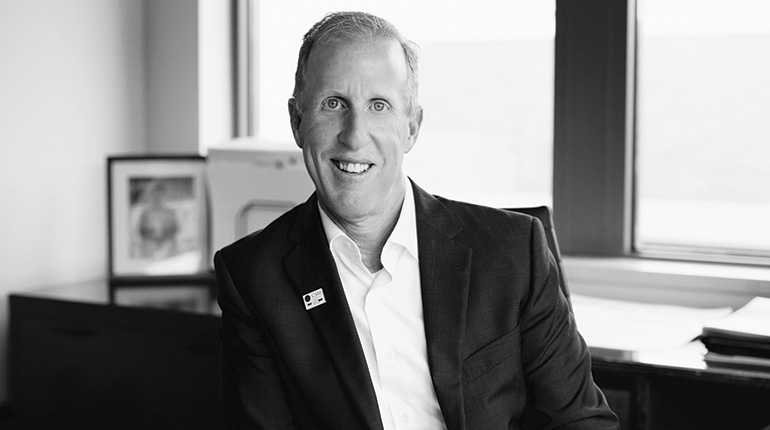 Steve Schlundt
President – Lodging/Residential
Steve joined CSM in 1996 to help launch the Lodging division and has been a vital component of the company's steady growth ever since. Today Steve serves as President and leads the company in its mission for continuous improvement of CSM's hotel and residential portfolio. In both the Lodging and Residential divisions, he advances our philosophy that a successful property is one that is highly competitive, profitable and appealing — over the long-term.
In his career with CSM, Steve's leadership has faithfully aligned with the company's core values of quality, integrity, respect, continuous improvement and community. His vision for excellence guides the guest experience in CSM hotels across the country, as evidenced by his active role in new construction, future projects and ongoing property renovations. From major construction features to the service details of an individual guest experience, Steve is dedicated to preserving CSM's reputation for award-winning hotels.
During his tenure, CSM Lodging was named one of the top 50 hotel management companies in the U.S. and Steve's teams earned dozens of prestigious awards, including Marriott Hotel of the Year (three times), Marriott Developer of the Year two years in a row and Country Inn by Carlson Developer of the Year.
Steve earned his bachelor's degree at the University of Wisconsin-Stout. He's a member of the Marriott Franchise Advisory Council and has served as chairperson for the Marriott Sales and Marketing Franchise Advisory Committee for TownePlace Suites.
He is gratified to see coast-to-coast support among CSM employees for many valuable charitable and community causes. By encouraging a spirit of giving within the CSM family, the company maintains a strong commitment to building vibrant communities.
Brian Schwarz
Vice President – Residential and ExecuStay
Brian heads financial, operational and project oversight for CSM's portfolio of residential properties and the ExecuStay corporate housing business. With a keen focus on client satisfaction, he recruits, hires and trains a team of high-performing community managers.
Brian continues to add new products to the CSM portfolio, including launching the internal renter's insurance service for CSM residents. He has worked on property/unit renovations, developed property websites, designed an online payment system and is overseeing the upgrade of CSM's property management software to a more robust, state of the art system.
Brian also assesses various opportunities to grow revenue outside of rent, such as coin laundry and internet/cable/phone revenue-sharing programs. He has worked on policy and procedure changes to keep CSM competitive in the industry and to ensure compliance with changing laws.
His prior work experience includes Gorman and Company and Village Green Management Company. He is a board member of the Minnesota Multi Housing Association (MHA), chairs MHA's Career's Task Force and participates in various other trade organizations.  Brian is on an advisory panel for Minneapolis Community & Technical College's Building Operations Technician program, which trains lower income students in the building/facilities maintenance field.
He attended the University of Wisconsin, Milwaukee and is an Accredited Residential Manager (ARM) through the Institute of Real Estate Management (IREM). He holds a MN real estate license, as well as insurance licenses in MN, WI, IA, SD, WY, and OR.
Brian's community involvement includes volunteering at Ronald McDonald House Charities, Hope for the City and Children's Hospital.
Chris Fodor
Chief Financial Officer
Chris's financial acumen and project oversight contribute to our security as a well-capitalized company and to you as a CSM partner.
Shanna Strowbridge
Associate General Counsel
Shanna is responsible for providing legal review and coordination of all aspects of commercial leasing for CSM. She also provides oversight of real property acquisitions and sales, including the management of due diligence and preparation of purchase agreements and collateral documents. She serves as a resource for legal questions regarding residential and commercial property management and assists with contract drafting and general legal matters for the various departments within the company.
With 15 years of experience in real estate and business law in the Twin Cities area, Shanna has represented local and national developers and builders in acquisitions, parcel sales and structuring of master-planned communities and has handled many complex real estate transactions. She has also represented many companies on corporate and contractual matters and has overseen several mergers and acquisitions. Additionally, she has experience advising clients on the resolution of environmental matters and providing guidance on related due diligence items.
She enjoys working in a corporate environment where her business perspective can be used to identify, understand and assist in resolving the company's legal and business concerns. Previous to joining CSM's in-house team, Ms. Strowbridge served as a shareholder at local law firms and has previous corporate legal experience working at a local commercial real estate developer and management company.
Shanna graduated Summa Cum Laude from the University of Minnesota-Twin Cities with degrees in History and English and earned her juris doctorate from the University of Minnesota Law School.
To pay your rent
Just select the CSM apartment or townhome in which you live and we'll help you make a rent payment.
› I want to pay my rent
"I find that the CSM mission statement is lived from the top down and words like 'integrity,' 'quality,' 'service,' and 'respect' are very much the norm and on display each week throughout the company. It's been a pleasure being a part of this organization."
– Tom Turczyn, Regional Director of Operations & Sales